Description
NOTE: This New Product is currently in the Pre-Order phase.  Please allow 4 to 6 weeks for delivery.  Use the Coupon Code CAGE10 at checkout for 10% OFF during the Pre-Order period!  Offer expires July 5, 2021.
Inspired By Racing!
CSD Has built dozens of UTV race cars over the years, from modified RZR's to complete custom chassis from the ground up.  Much of the design and safety aspects of the cockpit section of our proven race chassis have been worked into our bolt-in UTV cages.  In fact the design is literally lifted right from our race chassis and adapted to a bolt-in version.  These cages have been restricted to small runs and one-off builds for our shop customers but are now being launched into full production!  Safety is designed into every aspect of the cage, starting with beefy 1.75″ diameter .120″ wall DOM tubing.  While it weighs slightly more than competitors' thin-wall cages, we feel the minimal extra weight is a small price to pay for greatly increased tube strength and occupant safety.  CSD Cages utilize the strength of triangulation throughout, including diagonal roof-bars and rear down-bars that all meet at a central nexus for unbeatable strength.  The roof bars triangulate outward from this central nexus to the front A-pillar corners to stiffen the part of the cage most likely to impact during a rollover.  Head space is another important consideration in cage safety, so CSD cages are built slightly wider at the top than competing cages to provide extra side-to-side head clearance and upper body protection.  Because straight tubes are stronger than bends, the CSD cage is designed with as few bends as possible, and fortified by triangulating tubes at critical corners.  The focus is on safety first, but we believe this approach results in a simple, purpose-built cage that performs and protects as good as it looks.
Excellence in Manufacturing
In our manufacturing process, cage tubes are precision notched to form the tightest, gap-free joints, then precision formed on an NC mandrel bender.  Meanwhile, our cage bungs are CNC milled from solid steel, while foot plates are laser cut from steel plate.  Fully welded cages are then assembled in our CAD-designed assembly jigs for repeatable accuracy and professionally MIG welded.  Those opting for our DIY Cage Kit will enjoy the ease of assembly using our laser-etched assembly guides, which show right on the tube exactly where each joint is placed.
APPLICATIONS:
2014-2018 Polaris RZR XP 1000
2014-2018 Polaris XP XP Turbo
2018+ Polaris RZR XP Turbo S
Choose from our three most popular pre-configured cage builds: Basic, Standard or Deluxe.  Looking for a custom build or a combination of features not offered in our pre-configured builds?  Email us with what you're looking for and we'll get you a quote!
BASIC Cage Includes:
Pre-Assembled 8-Point Cage Designed For Easy Bolt-In Installation
.120 Wall DOM Tube, Laser Notched, CNC Mandrel Bent & Fixture-Welded for Precise Fit
CNC Cut, Bead Rolled Aluminum Roof Panel with Welded Tabs & Dzus Fasteners
Unfinished Steel, Ready for Your Paint or Powder Coat of Choice
STANDARD Cage Includes:
Everything above PLUS KC Pro6 Gravity LED Light Bar with Welded Mounts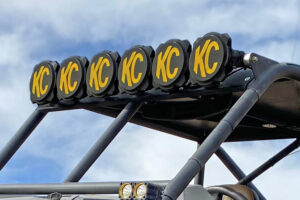 DELUXE Cage Includes:
Everything above PLUS KC 28″ LED Rear Chase Light with Welded Mounts